after our first outing with peej I decided that cooking at ground level wasn't for me, "we need a shelf to cook on".....Brilliant! where can I find a GADGET to fit on the tailgate that will let me cook Standing up on our next trip, mmmmmmm?
after perusing the internet and seeing lots of expensive fold away aluminium jobbies, I came up with this! 
The clothes airer from our caravan, hooks on the back door, mdf shelf with metal sheet on top, windbreak from our old camp kitchen. The whole thing folds down to 16" x 20" x 3/4" and slips under the false floor ( A KISS part Tuggy) 
well not that simple really, putting it together is like wrestling a live set of bagpipes, it has to come off the door to close the door and really, barely adequate for the job but nevertheless it worked for our Skye road Trip in oct 2012 ( I'll post that in Completed trips) 
Sadly the bug had bitten big time and a mark 2 version was required in time for our 2013 Road trip so remembering all that I didn't like about the mark 1 shelf this is what I came up with this time....... 
Sturdy, more convenient size, folds away and the door will close with it fitted, cost £20 
OK so good so far, after the Skye trip we also realised we needed better storage for essentials, tools (little did we know how essential these would be!), food, stove, water etc and we wanted to be able to leave the back seats in but still have the option to drive and wild camp when we got the urge. A new bed platform was required that would accommodate the different floor levels when the seat is folded down and when the seat is up would still leave the rear section in place with essentials still inside and so the Tardis floor was born...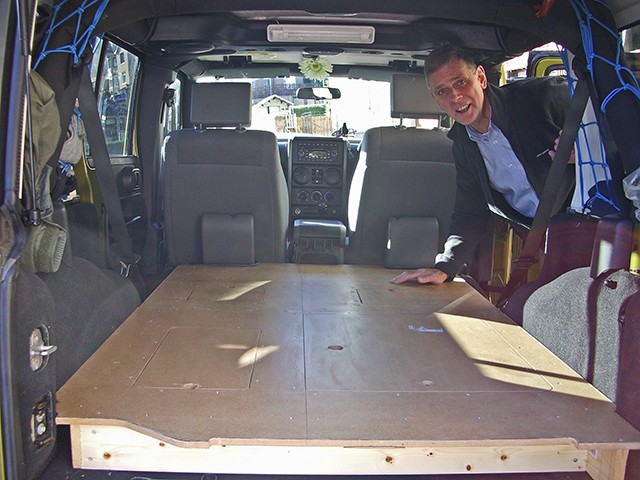 Room for a 6 footer, additional items installed were elastic Cargo nets to stuff clothes behind, roof panels with foam for insulation and a 12v strip light wired independently of the ignition and standard interior lights disconnected.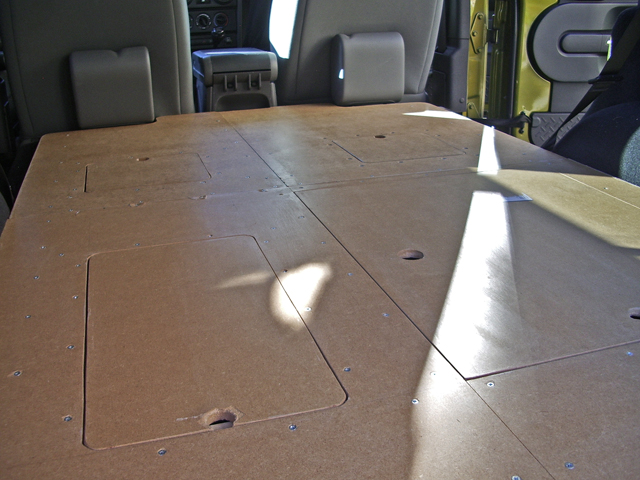 The Essentials 
There You have it, all prepared for the 2013 road trip (i'll post that in completed trips section)