You can have both 'the name' and a little off-road ability ... although due to the weight factor, they don't like soft sand. You can see where GMC got the inspiration for the Hummer.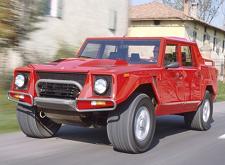 It's a Lamborghini LM002. Powered by a 5.2-litre V12 engine from the Lamborghini Countach, it produces 444bhp and has a top speed of 130mph – with a manual gearbox no less! Originally designed as a military vehicle, Lambo LM002's were built between 1986 and 1992.
I was in Paris Christmas Eve 1988 having a drinking session with a group of Swiss. It got to about 4am when they announced they had to get to the start line. Eh ... what are they on about I thought???? Turns out they were a team entered in the Paris-Dakar Rally, so they had to be on the starting ramp at 8am. Besides the fact they were legless, even more amazing is the fact they were in charge of
three
LM002's.
More money than sense? Well so it proved for it transpired they all got stuck in the Algerian sand dunes on Day One of the rally, so all were disqualified as 'out of time'.
Oh, nearly forgot. The price of a LM002 in 1988 was - £80,000 a pop!!!
Wonder if they left them behind?