Piaa 580 Series Lamp
Another great lamp I have used 2x in the past.
A full sized Truck lamp, larger than the Piaa 520 SMR, brighter and with longer range abilities.
Made with the typical high quality materials common in Piaa products, available in black or chrome. The 580 uses Piaa's 85W Xtreme White bulbs which is equivalent to a 135W halogen bulb. The item includes, Two lamps, wiring harness, relay, switch, and two lens covers.
Like the Piaa 520 SMR this light is stylish, robust and throws out a super bright beam. This lamp is available in either fog, flood, driving or Pencil. And either xtreme white or cool blue. The latter not only looks very cool but also offers better light penetration in poor weather conditions like snow, fog and rain.
I have used the 580 in both Driving and Pencil. IMO the driving pattern is best, offering a good width to the output of the beam, making the driving lamp useful on both motorways, long and twisting roads and country lanes. The pencil pattern is the longest distanced auxiliary light I have used next to HID's.
The only problem is that you Can no longer buy the 580 in the UK, but it is available from most of Europe, the USA and some companies in Australia. Personally I find it easiest buying from
www.piaa.com
or their main distributor on eBay. When buying from eBay USA I usually get packages to my door in 7-9 Working days depending on distributor when ordering via eBay, so far after 150 transactions I have had no problems with parts arriving on time ect.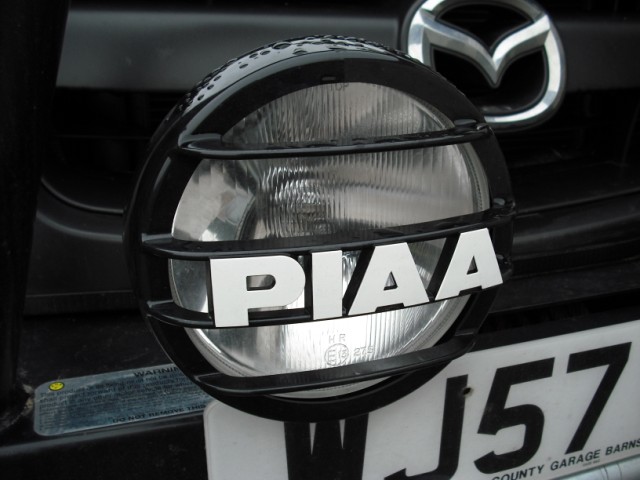 This Pic below is with just the Piaa 580 Driving only. Note the clear, bright, white light that is typical of Piaa.
This is a big powerful lamp, similar to the Lightforce 240, Hella Jumbo 320FF & IPF 900 in light output, ideally suited to either a bumper or roof mounted big vehicles. Not as slim-lined or power/amp saving as the smaller Piaa 520 SMR but it boasts nearly double light output and in Pencil form the 580 IMO is hard to beat.
TJ