Undoubtedly at some point when camping you will need a knife. Opening a tin of beans to chopping kindling for camp fire.
Over the last 5 years I have used 1 knife for my fishing and camping needs.
Note Never used to preparing food.
The knife I used is made by Kershaw, the Junkyard Dog I. Now replaced by the Junkyard dog II as found here:
www.bkcg.co.uk/products/manu/kershaw/ks1725.html
Ive chopped up lob worms, used to splice rope, open packaging chop up sticks for kindling, even shown how to use it as a make shift spear on a survival course by a competent instructor. I have only sharpened it once. Using a very fine Japanese water stone. Overall a Very, very tough, well built survival foldaway knife. If anyone is looking for a trusty knife then Give these a look at.
Taken from the website; Designed to an exhaustive specification featuring a revolutionary index-finger flipper-style opening system, providing smooth and effortless blade deployment with just one finger. Premium grade blade steel makes for a supersharp and durable working knife. Made in America, manufacturers lifetime warranty.
Some pics: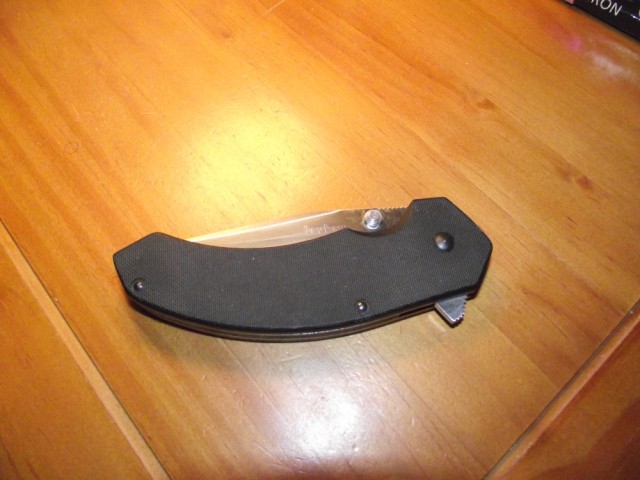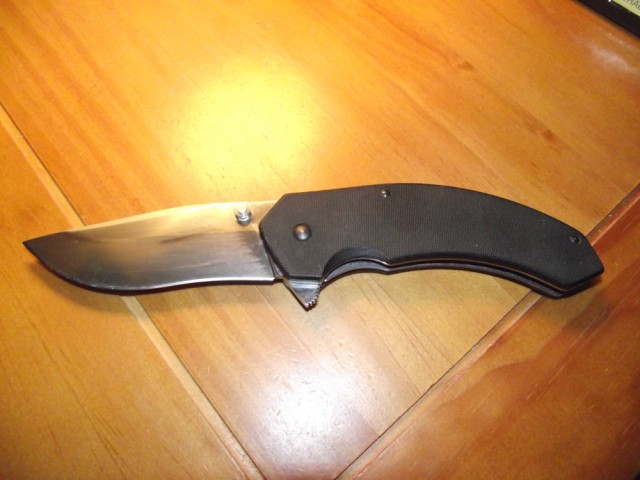 Operation is easy, you open the knife blade out or flick it out. I tend to open it just to be on the safe side. The blade is held open in place by a piece of metal as seen in the above picture. The metal holding the blade open is full width and the blade is "Truly" locked in place with no movement or wobble at all. Closing the blade is also simple, simply move the locking plate over with thumb or finger and retract blade.
Every month or after heavy use i clean the blade and polish it with FLITZ Metal polish. It removes any dirt and muck and it cleans, polishes, protects and restores the blade.
Note: Never use on food knives.
Some Pics:

I apply a pin head size amount of FLITZ metal polish to either side of the blade and rub in a circular motion with a clean rag or cloth. Clean any excess FLITZ off and job done.
I have also used FLITZ as a honing compound on Leather polish wheel. The picture below of my Bearded Wood Axe shows the sheen finish it can provide.

Overall I would definitely buy both Kershaw knives and FLITZ metal polish again. Worth the money. 10/10 IMO
NOTE: Myself, Jason, never carry's any form of knives, blades or axes. All items are kept in a Locked gun safe. All items can either be folded of are covered by a sheath or scabbard when in use at home, fishing or camping.
If anyone has a problem with the images in this review either forum members or MODS I will remove the photos. I understand the Laws and rules governing the use and handling of bladed items and the following link explains the basics.
Most important of all is to respect the item. If not, you could harm your self or others.
http://www.bkcg.co.uk/guide/law.html
Jason