Thought I would start a tread to document the development of my truck. I have already decided on some of the basics but will explain why I have taken the route I have. As the development continues all thoughts, improvements, concerns would be greatly appreciated. The information I have read here already has been very useful and I have enjoyed and learnt from others so thought I should contribute something back.
Vehicle choice was the first and biggest decision and is always a compromise. It has to be:
• Commercial vehicle to allow me to purchase it thought my company so this meant one of the 1t pick ups or 110 utility.
• Suitable as a daily commuting vehicle to cover 60 miles per day approximately.
• Suitable for trips around the UK for work.
• Reliable
• Big enough for family of 4
• Reasonably economical
As well as a daily drive and work horse around my croft the truck will be used to tow a boat, camping trips around Scotland and trips further afield. I am planning a tag along in the Alps or Pyrenees next year but ultimately I would love a trip to Iceland and another to Mongolia so I want the vehicle to be capable and able off road.
Previously I have owned and used for camping trips; 110 1998 defender CSW, 2002 Hilux Double Cab, Land Cruiser Colorado, Jeep Cherokee. All vehicle have their pros and cons and all influence future decision making and no doubt each will have its own followers on here, after all it would be boring if we all liked the same thing.
My choice at the end of the day was a 2013 Ford Ranger 2.2 XLT Double Cab which in my mind has the following pros and cons:
Pros
1. Very comfortable
2. Economic, currently around 30mpg but still to loosen up
3. Great carrying and towing capacity
4. Very safe, high ncap rating
5. Commercial, so lower road tax
Cons
1. Very sophisticated, everything is controlled by electronics so could be difficult to fix
2. A bit shiny and bling looking, requires a coating of mud to blend in
3. Compared to a Defender not may suppliers of upgrades
4. Newly out so limited track history
5. Unlike Rangers supplied in other countries it doesn't come with a locking rear diff.
I have had it now for 6 months and really like it. The electronics are amazing, I wouldn't like them in an old vehicle where they are starting to go wrong but the advances in technology compared to anything else I have ever had are impressive and you cant stop progress. For example, it is impossible to lose the back end even on a wet slippery roundabout. It senses the slide and corrects it making for a very safe vehicle until you forget how to drive, jump into another pick up and crash. It can also apparently correct trailer sway. Off road it copes better on slippery surfaces like wet grass with all terrain tyres than my Defender did with mud terrain tyres provided there isn't much axle articulation required.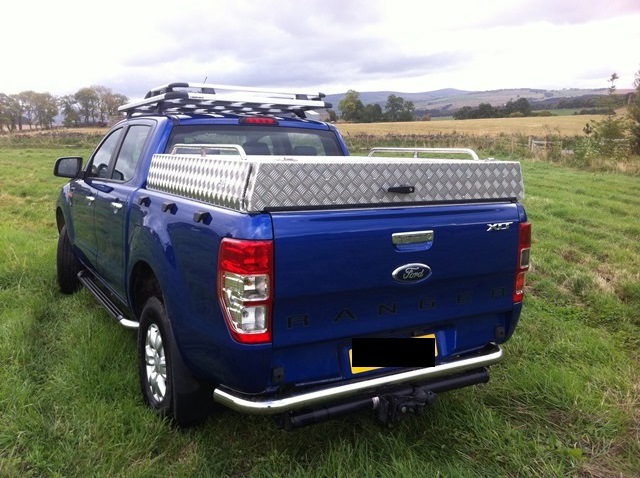 So with a standard vehicle delivered the modifications could begin. Position of the roof tent was probably the biggest consideration. I like my roof tent mainly due the comfort of the built in mattress. On my Defender it was set up to come over the bonnet as I don't have the below tent room and I wanted to be able to set up within a car space. I have also used the tent on top of the 4 1/2' high trailer. On the Ranger the choice was double can roof or on the canopy. While looking at options on the internet I came across N&J Aluminium and liked the look of the things they fabricate. On discussing their canopies the idea of a low level canopy came up. This gives more space in the pickup than a flat cover but keeps the tent lower for centre of gravity, keeping the vehicle low for wind resistance and ferries and ease of access to the tent for set up and entry / exit. It also allows the roof rack to remain free for other items.
Next was choosing a roof rack. Not a great deal of choice out there for platform type racks so ended up getting a Rhino Pioneer rack from TBR and am very pleased with it. It is fitted into a rail system which is pop riveted to the roof of the cab. Feels very secure but it was a bit nerve racking having to drill the roof of a new vehicle. I was keen to do this myself so I could make sure everything was painted and sealed well. My old hilux had a canopy fitted by Toyota which had been bolted to the body work but the holes were not painted or protected with anything so by the time I bought the truck it was starting to bubble up the paint around every hole, what a shame not to do a proper job. So very carefully the holes were marked, drilled, painted, rust proofed and sealed as the rails were fitted.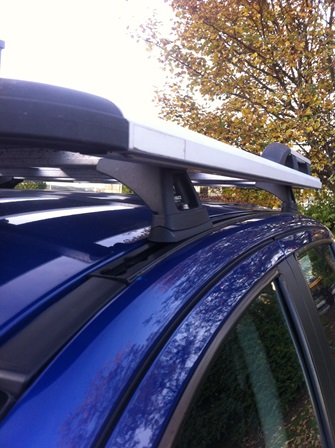 Another basic I wanted to complete before winter was to waxoyl underneath and in any cavities. The truck has a 12 year corrosion warrantee but for the sake of a day in the pit and a tin of wax it has to be worth it. Following this the paintwork got a paint sealant treatment. I wouldn't have bothered with this if it hadn't been for a mate pestering me telling me how good it is. I don't normally wash cars at all but as this one is new I feel obliged to.
This truck needs to be comfortable for my family of 4. At the moment, on camping trips, we all sleep in the Hannibal roof tent but in the future when my kids are bigger someone will have to move into the caranex. The intention is to have it set up to allow cooking during the day without unpacking and cooking at night in the caranex. I also like the idea of keeping it all relatively simple and adaptable so I can easily modify things in the future and so there isn't anything that can break down and cause a problem.
So with the canopy fitted I have now started trying out different options for storage in the back. I plan to get the following to fit in:
6 metal ammo boxes under a false floor containing:
1. Tools and spares
2. Recovery equipment
3. Bushpig and fire kit
4. Cooker
5. Cooking and eating kit
6. Washing and cleaning kit
3 plastic storage chests
1. Adults clothes
2. Kids clothes
3. Jackets / boots
Fridge
2 x water jerry cans (Septer cans)
Water pump and maybe heater
2 x Food storage box
Auxiliary battery with T Max split charger
Table
Chairs
Spade
Caranex
And for more adventurous trip in the future:
Hi lift jack
Waffle boards
Extra fuel
Extra spare wheel
I like the use of ammo boxes because they are so adaptable. The 3 boxes which slide in first will be stuff I don't use often, the second set of 3 have their lids removed so function like drawer to make them easy to put stuff in and get stuff out. The other big advantage is they are easily removed so I can store them in my shed when not needed and just carry the ones I want. I can also use them as tables or seats in camp. And ammo boxes are strong and make good use of space.
The plastic chests are also useful around camp and can be carried on the roof rack if more space is required in the pickup. They are reasonably water tight and have survived a few holidays on the roof rack of my old Land Cruiser which was a short wheel base and needed the roof storage.
As I progress with the build I will post more photos and thoughts. Any tips and advice is greatly appreciated. At this moment in time I am making a slider for the fridge and thinking about how to mount the hi lift jack.