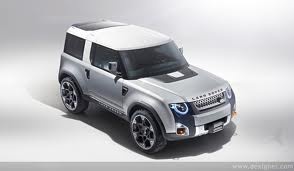 DC100 concept
So, Land Rover have finally realised their radical DC100 concept, the proposed replacement for the Land Rover Defender (pictured above), did not go down too well with the buyers. As you will probably know by now, it seems they have finally ditched the idea. However, there is a new kid on the block that will go down well in some quarters, but certainly will not be to everybody's liking.
Trouble is nowadays Landrover are owned by the Indian multi-national giant Tata, so it's obvious the new replacement model will have been designed with the Indian Sub-Continent and Asian markets firmly in mind. Featuring roof-fitted solar panels as standard, the new vehicle known as the Eco-Carreir is a totally electric vehicle with a range of up to 50 miles/80 km on battery power, and of course virtually unlimited mileage should the sun be shining. Fine in sunny climbs, but this may prove a big problem in the Northern Hemisphere.
According to Poarline Singh of Tata Sub-Division Landrover Marketing UK,
"We're going back to our roots. The Defender replacement had to be a utilitarian, that is exactly what we have produced with our eco-friendly workhorse. With the advent of Global Warming, vehicle manufacturers have to change with the times, hence the all-electric Eco-Carreir. Designed and constructed in India, it is the car of tomorrow today!"
Although a passenger version is to follow, I can't see the purists being best pleased though, for although Tata may have got rid of the sophisticated electronics seen in so many vehicles these days (which has to be a good thing), the Eco-Carreir is indeed going to be basic, but front-wheel-drive
only
.
Quoting from the badly-translated sales brochure, they reckon the lightweight plastic panels of the body design "negating the need for four-wheel-drive due to innovating bodies". Mmmmm, how reassuring! Can't see it myself. Sure there is a weight advantage to be saved without the need for a transfer box, prop-shafts and live axles with their hefty diffs, but a 4x2 … no way!
Okay, the Defender may be long in the tooth, but to ditch it for this monstrosity is just plain foolhardy – it doesn't even look the part. Do they think we're stupid? Mark my words, if they think they saw a backlash against the DC100, just wait until folk hear about this hideous replacement.
I tell you, the world's gone bonkers!!!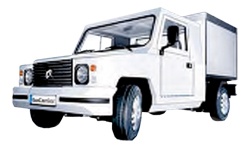 Brochure illustrations
Brochure technical details:-
Running costs: The electric drive creates only 30% of the costs of a standard van, with 50% operating costs lower than those caused by the average standard van. Particularly maintenance-free, solid and has a long life cycle.
Body: Thermo-polycarbonate panels of 1.20–1.22 g/cm3 density.
Chassis: Spaceframe technology comprising high tensile aluminium frames.
Maximum speed: 75 km/h.
Range: up to 80 km, depending on driving style and environment.
Motor: AC Motor asynchr., Electric and hybrid drive.
Battery: Battery type: Lead-acid battery, 84V, 180AH.
Battery energy consumption: circa 10 kW.
Gross Weight: 1.550 kg.
Maximum payload: 2.250 kg.